Welcome at the EAZZY® Envelop display website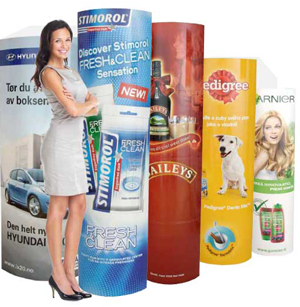 Thank you for your visit at our website. 
Emerson Ten OÜ displays is a full-service printing corporation with various subsidiaries throughout Europe. Our mission is to assist firms to the top by providing a cutting edge in the increasingly competitive global market through the design and production of unique high quality, light weight foldable promotion displays.
The success (or failure) of a marketing campaign is more than launching a spectacular, daring and often expensive campaign. With Eazzy® displays we efficiently and effectively launch your brand into the market, realizing a campaign that is seen and generates a profit on your investment both on the short- and on the long top by providing a cutting edge in the increasingly competitive global market through the design and production of unique high quality, light weight foldable promotion displays.

How do we guarantee our success? Through fifteen years of experience we have established a trusted relationship with our customers. We are driven by a passion to turn small brands into global players and global players into market leaders. We are proud of our staff and we enjoy what we do. The global market is becoming increasingly interconnected and communicating brands faster than the competitor in a clear, understandable and original way is now more important than ever before.

Technical information Eazzy® envelop displays:
Available in more than 35 models, sizes and dimensions. Examples are ellipse formed displays, totem displays, counter-displays or mega P.O.S. Shop-in-shop presentations. Eazzy® envelop displays' unique folding capability allows the product to be packed in small and flat packages, generating significant savings on your shipping and installation costs.
The internal EAZZY® pop-up system TM contains an internal foldable panel which is automatically activated by stretched elastic lines once the display is opened, instantly setting up the oval display in the proper form.
The high quality bright white carton Alaska 275-350 gram, and Kraft 390 gram and invercoat allows us to print at an astounding quality and deliver marvelous displays.
A wide variety of additional refinements such as: Varnis on Kraft and Laminates in anti-glare or glossy allows us to add an additional layer of protection to your displays.

Printing facilities in digital and offset. Digital production is possible from up to one single display. Inform us about your project and receive more info about the digital or offset process. We are able and willing to design and produce one single model or thousands of units for a marketing campaign throughout Europe.

EAZZY® displays supervises the entire project from printing to delivering your product to each single subsidiary in Europe.

The quality of our products is unequalled and we offer sharp prices. Products are delivered directly from our factory, allowing for fast shipping and timely delivery in whole Europe.

Our logistics channel is as efficient as it is environmentally aware. Accuracy, on time delivery and respect for the environment are high up our agenda.


We strive to deliver your project within two weeks.

On this web shop you will find the information regarding the product groups in the TOP-line. Here you can find an overview of our firm and the variety of products we offer. Within the tab product groups, you can find a series of pictures of our various models by scrolling down to the end of each relevant page. You are able to enlarge the pictures by clicking on them. 

We are keen to hear your thoughts on our website and products. We are looking forward to servicing you.

With kind regards,

Eazzy Display 
Tel: 0031 (0)6-4680 1655    -    E-Mail:   info@eazzydisplay.com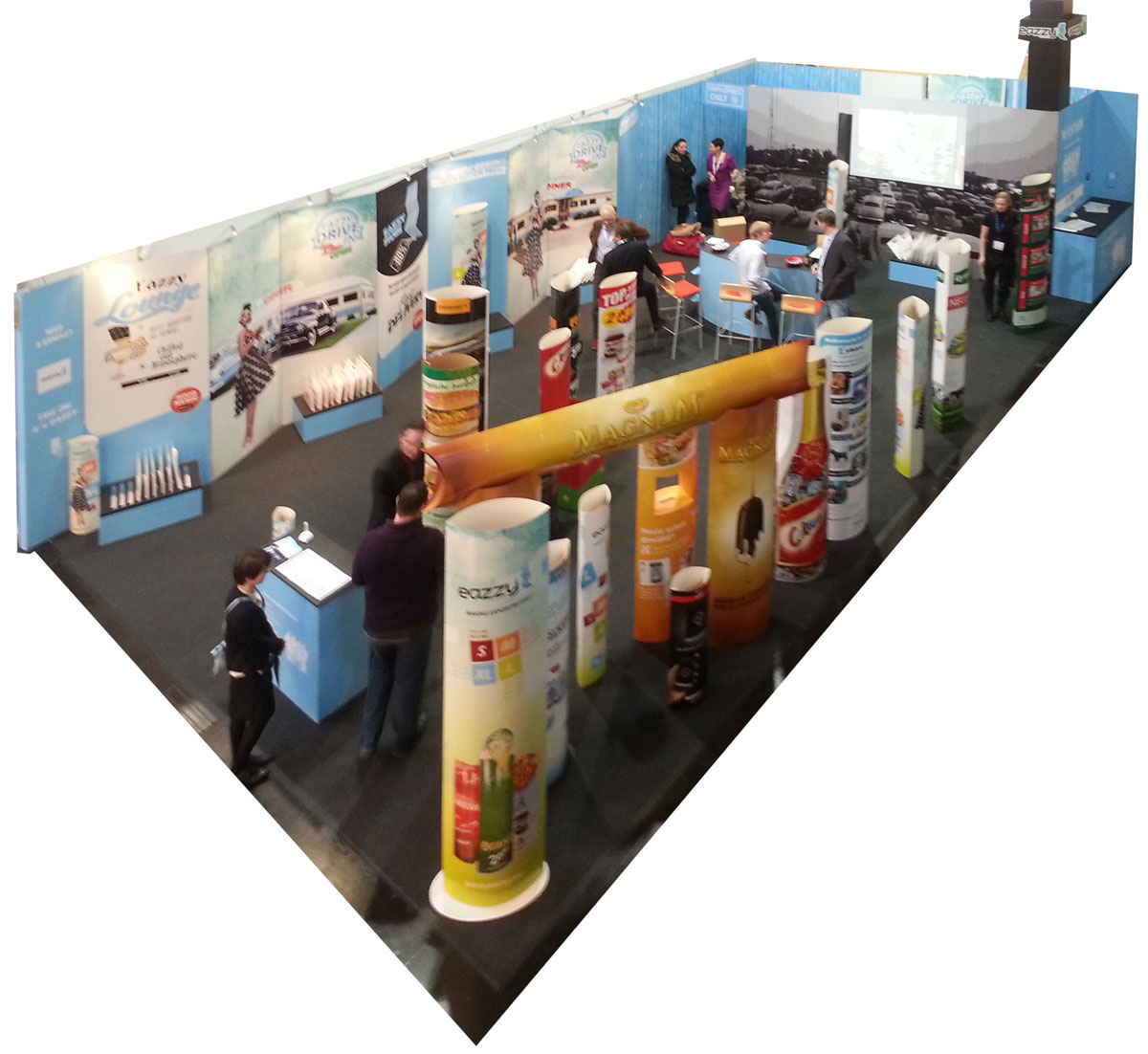 Visit our stand at Euroshop in Düsseldorf 5 to 9 march 2017.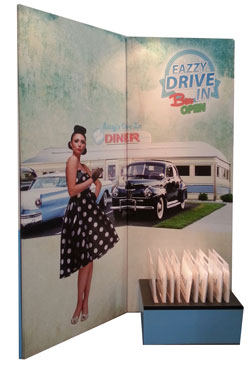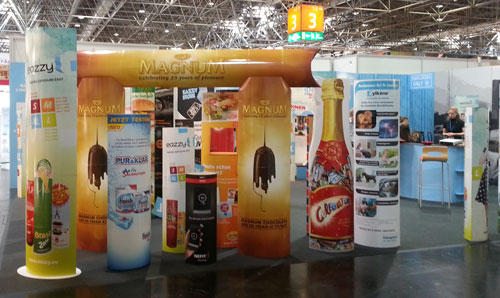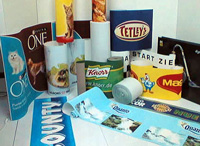 DECOROLL Pallet wrap any height on rolls.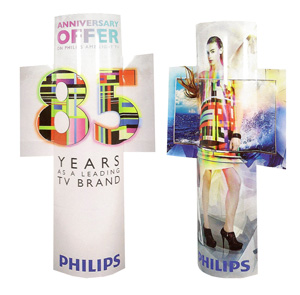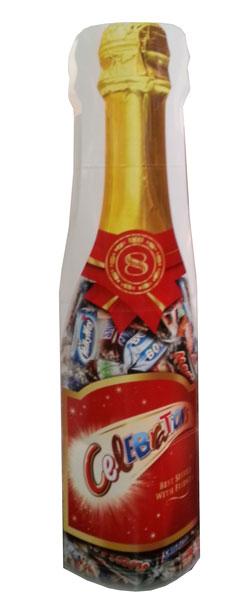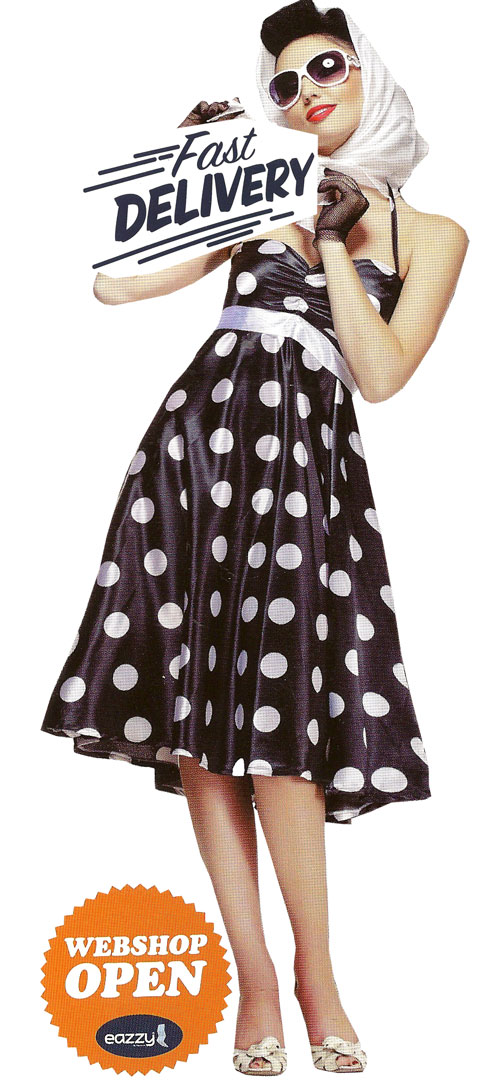 Advertising and marketing professionals visit us at Euroshop They all know that greater exposure will lead to increased sales. We reach you smart solutions with Eazzy envelop displays for your international point-of-sale campaign. For Philips we create the Add-On at the left and right side in the model Eazzy Large elliptic display in the size 59x190 cm. Super bright Alaska carton with an extra gloss lamination. Maximum savings on your transport and installation costs! Each display is folded packed in a PE bag or a carton box in the size: 595x485x25 mm. Total 280 units on 1 pallet. The eazzy design designers created a special bottle shape of the last 2 panels in the size 59x190.
With an infinite number of ideas and manufacturing possibilities available we believe the only limitation is your own imagination. We work with nearly all types of material, quantities and sizes. It would be an exception for a job to be too small or too large for us. We are able to guarantee that your campaign will be produced with the utmost care, creativity and a superior quality.
We want to do it cost effective, fast  and environmental friendly!
Today the Emerson TEN-group has sales offices all over the world. We offer our clients a complete selection for maximum exposure with point-of-sales displays. Contact us!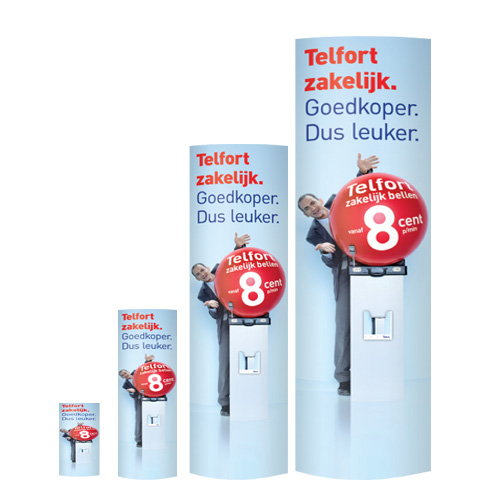 DIGITAL DIVISION
We were the first in Estonia to digitally print large format sheets of corrugated cardboard, we produce, in a single pass, up to a maximum size of 1600 x 3200 mm.
A whole area completely dedicated to digital printing.

Digital Division is a new department, completely dedicated to digital printing on cardboard  and other materials, the last frontier of technology available on the market that allows you to print large format DIRECTLY on corrugated cardboard: low cost of changes and no high cost of printing plates.
The print method in digital inkjet UV and uses high definition files, allowing a remarkable quality of printing.
The die cutting plotter is done by machines, which eliminating therefore the fixed costs of die tools.
We want to do it cost effective, fast  and environmental friendly! Contact us. Emerson TEN OÜ has again, 2013, been appointed as second best graphic company in Estonia by the daily business newspaper, Aripaev. The year before the company even reach the same position, and we are happy that our clients appreciate our EAZZY – products and our motto, always deliver in time!

Thanks to our clients and the EAZZY team all around Europe!
ARCE Portal Eazzy with Adjust TOP - Ellips 65x2100/2300- Toppart in different sizes
50 cm height x 2940 max. See productgroup Portals. 
MEGA Presentations. Take the Eazzy Carrousel. Pole 170 height placed on 1 or 2 pallets    
wrapped with palletwrap. Toppanels 112 x 38 cm. Divers custom made Add-on elements

DECOROLL Palletwrap. Printed on corrigated rolls in almost any height and lenght.
Rolls 25 mtr. wrapped with palletwrap.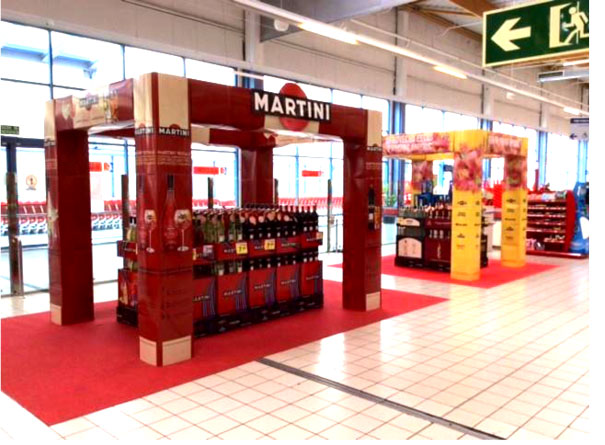 Eazzy Square a new design for MEGA in store presentations on the shopfloor.

Webmaster: Emerson Ten OÜ - Tallin -